 Installing applications from the hosting control panel
FFIn the application menu, to view all available, click all applications, we will be given a choice by category, as well as a search by name. We described the installation of the most popular applications in the application hosting section. There you can see the details of the setting, as well as see what the already installed looks like.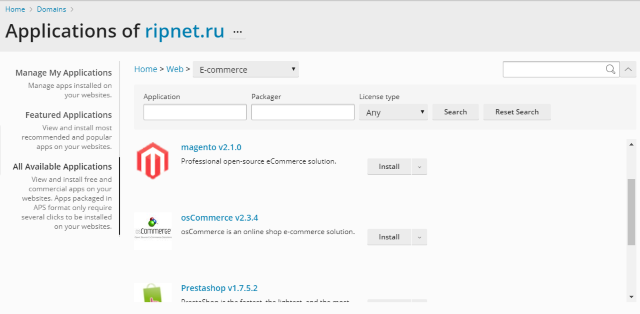 In many cases, when you need a business card site, portal, online store or even a CRM system, there is a ready-made free solution and there is no need to spend time and money developing a necessary solution from scratch. The catalog provides a large number of solutions for a variety of tasks for both the average user and complex for business.


For example, if you want your online store selling construction or household appliances, just stop at the choice of Prestashop to change a few pictures in the design, upload a catalog, place the necessary information about your company and you're done! The most popular applications such as wordpress and joomla have a large number of modules and design templates.